EBSCO and Ebrary SSI Collections.
Battles of the Revolutionary War
Call Number: ONLINE EBSCOhost SSI Collection
ISBN: 9780306813290
Publication Date: 2003-12-25
Chapter One discusses the Battle of Bunker Hill.
Battles That Changed American History
Call Number: ONLINE EBRARY SSI Collection
ISBN: 9781440828614
Publication Date: Jan 2014
See Chapter on the Battle of Bunker Hill
Print Books and Audio Books
American Spring: Lexington, Concord and the Road to Revolution
Call Number: Audio CD 973.331 Borneman 2014
ISBN: 1478901225
Publication Date: 2014-05-06
When we look back on our nation's history, the American Revolution can feel almost like a foregone conclusion. In reality, the first weeks of the war were much more tenuous, and a fractured and ragtag group of colonial militias had to coalesce to have even the slimmest chance of toppling the mighty British Army. American Spring follows a fledgling nation from Paul Revere's little-known ride of December 1774 and the first shots fired on Lexington Green through the catastrophic Battle of Bunker Hill, culminating with a Virginian named George Washington taking command of colonial forces on July 3, 1775. Focusing on the colorful heroes John Hancock, Samuel Adams, Mercy Otis Warren, Benjamin Franklin, and Patrick Henry, and the ordinary Americans caught up in the revolution, Walter Borneman tells the story of how a decade of discontent erupted into an armed rebellion that forged our nation.
Angel in the Whirlwind
Call Number: 973.3 Bobrick
ISBN: 0140275002
Publication Date: 1998-07-01
He thrillingly describes the major battles, from Lexington and Concord to Bunker Hill, Trenton, Saratoga, Camden, and Kings Mountain, and then the climactic siege of Yorktown when the British flag of empire was finally lowered before patriots guns. At the same time, Angel in the Whirlwind weaves together the social and political as well as the military history of the struggle into one epic tale. A variety of voices is represented.
Battles of the Revolutionary War
Call Number: 973.33 W881.
ISBN: 9780306813290
Publication Date: 2003-12-25
Battles of the Revolutionary War is designed for the armchair strategist with dozens of illustrations of the weapons, battle plans and combatants. Americans won their independence on the battlefield by employing superior strategies, tactics and leadership in the battles of Bunker Hill, Quebec, Trenton, Princeton and Saratoga and Cowpens.
Boston 1775 : the shot heard around the world / Brendan Morrissey.
Call Number: 973.331 Morrissey
ISBN: 1855323621
Publication Date: 1995-05-15
The road to war -- The seat of war -- The opposing commanders -- The opposing armies -- Lexington and Concord, 19 April 1775 -- Breed's Hill, 17 June 1775 -- The siege -- Aftermath -- The battlefields today.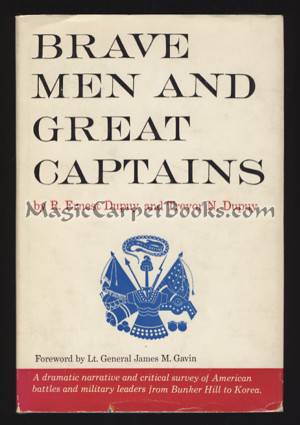 Brave Men and Great Captains
Call Number: 973 D945 2 copies
ISBN: 0963869221
Publication Date: 1995-02-01
This exciting narrative provides a unique and comprehensive survey of the highlights of American military achievements and failures from the Revolution through the Korean War; from Bunker Hill to Chosin Reservoir. Chapter 1: Battle of Bunker Hill, June 16, 1775 -- pp. 9-20.
Bunker Hill: a city, a siege, a revolution
Call Number: 973.3312 Philbrick
ISBN: 1611761654
Publication Date: 2013-04-30
Recounts the events of the Boston battle that ignited the American Revolution, tracing the experiences of Patriot leader Dr. Joseph Warren, a newly recruited George Washington, and British General William Howe. Boston, Massachusetts, in 1775 is an island city occupied by British troops after a series of incendiary incidents by patriots who range from citizens to vigilantes. After the Boston Tea Party, British and American soldiers and Massachusetts residents have maneuvered around each other until April 19th, when violence erupts at Lexington and Concord. In June, with the city cut off from supplies by a British blockade and Patriot militia poised in siege, skirmishes give way to war in the Battle of Bunker Hill.
Decisive Battles of the American Revolution
Call Number: 973.33 M681
ISBN: 159416004X
Publication Date: 1962
Describes the battles of: Lexington, Bunker Hill, Long Island, White Plains, Trenton, Princeton, Bennington, The Brandywine, Germantown, Saratoga, Monmouth, Camden, Charleston, Cowpens, Yorktown
Decisive Day: The Battle for Bunker Hill
Call Number: 973.3312 K43
ISBN: 0805060995
Publication Date: 1999-05-15
In 1775 Boston was occupied by General Thomas Gage's redcoats and groaning with Tory refugees from the Massachusetts countryside. Besieged for two months by a rabble in arms, the British decided to break out of town. American spies discovered their plans, and on the night of June 16, 1775, a thousand rebels marched out onto Charlestown peninsula and began digging a redoubt (not on Bunker Hill, which they had been ordered to fortify, but on Breeds Hill, well within cannon shot of the British batteries and ships). At daybreak, HMS Lively began firing. It was the opening round of a battle that saw unbelievable heroism and tragic blunders on both sides (a battle that marked a point of no return for England and her colonies), the beginning of all-out war. ... Cover
Encyclopedia of the American Revolution
Call Number: REF973.3 E56
ISBN: 0684315130
Publication Date: 2006-05-05
Fatal Victories
Call Number: 909 W4258
ISBN: 0208023615
Publication Date: 1993-06-01
see Chapter 8. Regulars and Rabble 1775, Bunker Hill (Revolutionary War)
With Fire and Sword: the battle of Bunker Hill and the beginning of the American Revolution
Call Number: 973.3312 J427w
ISBN: 0312576447
Publication Date: 2011-03-01
Chronicles the events of the Battle of Bunker Hill and the beginning of the American Revolution, describing key figures from both sides, and how the battle's outcome influence British strategy throughout the course of the conflict.
The First American Army
Call Number: 973.34 CHA
ISBN: 9781402205064
Publication Date: 2005-10-01
Bunker Hill: the arrival of Private John Greenwood, age fifteen, fifer --
The Historical Atlas of the American Revolution
Call Number: REF 973.3 B261
ISBN: 0415922437
Publication Date: 2000-08-03
British North America -- Prologue to Dissent -- The Shot Heard Around the World -- Washington Assumes Command -- The Help of Foreign Friends -- War at Sea -- Other Battle Fronts, Native Americans' Dismay -- Birth of Politics -- The State Expands. Ch.3 Distribution of Armed Forces in the colonies -- Lexington and Concord -- Fort Ticonderoa to Canada -- Bunker Hill -- Battle for Valcour Island -- Ch 5: The Help of Foreign Friends -- Savannah and Charleston -- Battle of Camden -- Battle of King's Mountain -- Battle of Cowpens -- Guilford Courthouse -- Battle of Hobkirk's Hill -- Eutaw Springs -- Siege of Yorktown.
How America Fought Its Wars: Military Strategy from the American Revolution to the Civil War
Call Number: 355.020973 Brooks 1999
ISBN: 1580970028
Publication Date: 1999-03-21
Bunker Hill Dilemma: Emergence of William Howe
Men of War: The American Soldier in Combat at Bunker Hill, Gettysburg and Iwo Jima
Call Number: 355.330973 Rose 2015
ISBN: 9780553805185
Publication Date: 2015-06-09
Bunker Hill, 1775. The battle ; The redoubt, part one ; The beach ; The rail fence ; The redoubt, part two ; The wounded and the dead ; Aftermath
Now We Are Enemies: the Story of Bunker Hill
Call Number: 973.3312 Fleming
ISBN: 0984225668
Publication Date: 2010-06-10
The Battle of Bunker Hill was the crossing of a line. It was the last moment when matters could conceivably be resolved. This was where it ceased to be a local discontent and became a civil war.
The spirit of 'seventy-six; the story of the American Revolution as told by participants,
Call Number: 973.308 Commager
Publication Date: New York, Harper & Row [1967]
See Ch. 4 Bunker Hill - The Siege of Boston - Bunker's Hill: The American Version - Bunker hill: the British Version
The Whites of Their Eyes: Bunker Hill, the first American Army, and the emergence of George Washington
Call Number: 973.3312 L816w
ISBN: 0061958867
Publication Date: 2011-06-07
Offers a reassessment of the first major engagement of the American Revolution by intertwining two equally important stories--the creation of America's first army and the rise of the man who led it, George Washington.
Journal Articles and Online References
Online catalog and electronic resources
SSI Library Sharepoint site pages. Contact SSI Knowledge Manager for authentication to Sharepoint.
EBSCOhost SSI Collection: Ebooks; Audiobooks; Academic Search Complete available for SSI authorized patrons.
EBRARY SSI Collection: for SSI authorized patrons
Army Heritage & Education Center Digital Archive: Army historical images, bibliographies and historical military publications
Army Libraries Catalog and Online Resources : MWR and Army consolidated library catalog, including research databases. Register at MWR libraries to access online resources.
Army Logistics University Library
Books 24x7: Includes leadership and professional development titles. Army E-Learning access to ebooks and related content.
Center for Army Lessons Learned : Call Handbooks, Combat Studies Institute materials and Military Review journal articles.
Center for Military History: Unit History and Battle Analysis materials.
Combined Arms Research Library Digital Library
Doctrine Publications Search - CAC: Combined Arms Center
DTIC: Defense Technical Information Center Professional papers, battle analyses, research reports, index to military literature.
Jane's Sentinels, news and security reports via Intelink.
Joint Electronic Library (DTIC): Joint Publications; Doctrine; Lessons Learned; Joint Force Quarterly journal.
MCoE HQ Donovan Research Library -- Research library online resources include bibliographies, battle analysis material, digital collections.
Safari Ebooks: Register through AKO My Library or OpenSource. Safari offers a Safari to Go app that works with Android, Apple iOS and Blackberry devices.
U.S. Army Chaplain School and Center Library
Warrior Reference Library: from the Combined Arms Center.
US Army Soldier Support Institute Library
10,000 Hampton Parkway
Fort Jackson, SC 29207-7050
Contact:
Circulation: 803-751-8114
Librarian: 803-751-8229
Hours of Operation:
Monday - Thursday: 800-1300; 1400-1700
Friday: 730-1130; 1200-1600