Professional Papers and Journal Articles
Books -- Print and Ebooks
EBRARY SSI Collection -- availabe at SSI, Fort Jackson.
Center for Military History: open access.
Battles That Changed American History
Call Number: ONLINE EBRARY --
ISBN: 9781440828614
Publication Date: Santa Barbara, California : ABC-CLIO, 2014
See chapter which describes the Battle of 73 Easting. Expertly written, informative, and thoughtful, this analysis will be insightful and interesting for all high school, undergraduate, and general readers.
Certain Victory: The U.S. Army in the Gulf War
Call Number: 956.7044 S281 -- Available online from DTIC
ISBN: 1574881361
Publication Date: 1998-02-01
P. 261 f. The Battle of Wadi Al-Batin, VII Corps, G-Day Plus 2.

Crusade: the Untold Story of the Persian Gulf War
Call Number: 956.7044 Atkinson 1993
ISBN: 0395602904
Publication Date: 1993-11-18
see p. 441ff, 73 Easting, Iraq.
Gulf War: The Complete History
ISBN: 0966845609
Publication Date: 1999-04-01
See Chapter 19: The Battle of 73 Easting
Jayhawk! the VII Corps in the Persian Gulf War
Call Number: 956.70442 B68 2001 -- Available online CMH
ISBN: 1507660618
Publication Date: 2002-11-06
Background: VII Corps in Europe -- Notification, Deployment and Planning -- Port Operations -- Tactical Assembly Area Juno -- Precombat Training -- Defense of TAA Juno -- The Iraqi Defenses and the 1st Cavarly Division -- 1st Infantry Division Border Activities and Field Artillery Raids -- To the line of Departure -- Final Preparations -- Initial Moves -- Into the Breach -- Breakout: 25 February -- Objective Collins: Night of 25-26 February -- Searching for the Guard -- Flank and Deep Operations - Corps Situation - Enemy, Weather and Terrain - Objective Minden, Objective Waterloo -- Destruction of the Tawakalna Mechanized Division - 73 Easting - Objective Norfolk - Center of the Line - Exposed Northern Flank -- Battle of Medina Ridge - The Security Zone - The Medina -- Exploitation and Pursuit -- Battle's End -- Postwar Operations -- Coming Home -- Epilogue: Lessons from Desert Saber
Leaders in War: West Point remembers the 1991 Gulf War
Call Number: 956.704424 Kagan
ISBN: 9780415350167
Publication Date: 2005-07-12
"Leaders in War provides first-person perspectives across the spectrum of American combat operations during the 1991 Persian Gulf War. From division commanders to platoon leaders, the authors offer an insider's view of tough leadership challenges, tragic failures and triumphant victories. Leaders in War captures the essence of the post-cold war US Army: how an all-volunteer army, equipped with new weapons systems and adjusting to new battle doctrine, mounted one of history's most successful military campaigns. Described here are the details of the tremendous logistical challenges, innovations in intelligence, ground combat operations from platoon to division, and a wide range of combat support operations."--Jacket.
M1 Abrams vs T-72 Ural
Call Number: 623.74752 Zaloga 2009
ISBN: 9781846034077
Publication Date: 2009-08-18
The Gulf War bore witness to a number of deadly encounters between these two great adversaries. Heavily armoured, highly mobile, and capable of killing at over 2500m, the M1 Abrams is, to this day, a veritable fighting machine. Superior to both Iraq's Soviet era T-55 and T-62 tanks. Nearly all sources claim that no Abrams tank has ever been destroyed by enemy fire. Despite entering service in 1980, the M1 Abrams remained untested in combat until the Gulf War in 1991, where it was to be confronted by its archenemy the Iraqi-assembled Soviet-designed T-72. Entering production in 1971, the T-72 arguably outstripped its contemporaries in a balance of mobility, protection and firepower. By the time of Operation Desert Storm, however, the tables had turned and the tank suffered due to low quality ammunition and poorly trained crews. In this fascinating study, Steven Zaloga pits these two great fighting machines against one another, plotting the development of the Cold War until both tanks met in combat in the deserts of Iraq and Kuwait.
Military Power: explaining victory and defeat in modern battle
Call Number: ONLINE EBRARY SSI Collection
ISBN: 9780691128023
Publication Date: 2006-07-23
See Ch. 7 Operation Desert Storm, page 134ff.

In war, do mass and materiel matter most? The answer is yes. But this is to overlook force employment, or the doctrine and tactics by which materiel is actually used. This book provides an account of how force employment interacts with materiel to produce real combat outcomes.
The Road to Safwan: the 1st Squadron, 4th Cavalry in the 1991 Persian Gulf War
Call Number: ONLINE EBRARY SSI COLLECTION
ISBN: 1574412329
Publication Date: 2007-09-06
Presents the history of the 1st Infantry Division's cavalry unit fighting in Operation Desert Storm, showing how the unit deployed, went into combat, and adapted to changing circumstances. This work describes how the officers and men moved from the routine of cold war training to leading the Big Red One in battle through the Iraqi defenses.
Warrior's Rage: the great tank battle of 73 Easting
Call Number: ONLINE EBRARY SSI COLLECTION -- and print 956.7044242 Macgregor 2009
ISBN: 9781591145059
Publication Date: 2009-09-01
MacGregor, the controversial military veteran and author of "Transformation Under Fire," recounts the inspiring tale of the valiant American soldiers who led Cougar Squadron out of a sandstorm during Operation Desert Storm.
Whirlwind War
Call Number: 956.7044 W575 -- Available Online CMH
ISBN: 0160429544
Publication Date: 1995-10-17
See Chapter 8: 100 Hours.

Provides an overview of the U.S. Army's role in the coalition force arrayed against Iraq during the Persian Gulf War in 1990-1991. The authors describe how the Vietnam-era Army transformed itself into a small, superbly equipped, highly skilled, well-trained, and extremely mobile force, composed of units from both the active and reserve components. In this major test the Army clearly demonstrated that it could project its power effectively and operate as part of a multinational force with great success. Although not definitive, this work records a pivotal chapter in the Army's history by describing the various strands that came together to produce the Army of the 1990s and by capturing how that Army in turn performed under fire and in the glare of world attention
Breach of Trust: How Americans failed their soldiers and their country
Call Number: 355.00973 B15 2013
ISBN: 9780805082968
Publication Date: 2013-09-10
Bacevich takes stock of the separation between Americans and their military, tracing its origins to the Vietnam era and exploring its pernicious implications: a nation with an abiding appetite for war waged at enormous expense by a standing army demonstrably unable to achieve victory. Rather than something for "other people" to do, Bacevich argues that national defense should become the business of "we the people."
General references covering the Persian Gulf War
Chronologies, dictionaries, general works, lessons-learned.
At War in the Gulf: A Chronology
Call Number: 956.704 B635
ISBN: 0890965072
Publication Date: 1992-01-01
Offers a chronological account of the events surrounding the United States involvement in the Gulf War from June 26, 1990 to February 28, 1991.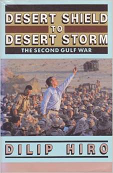 Desert Shield to Desert Storm
Call Number: 956.70442 Hiro 1992
ISBN: 0415906571
Publication Date: 1992-07-10
Dilip Hiro reveals the complex political-economic motivation and diplomatic maneuvering that preceded the 42 day conflict as well as the historical causes and consequences of war.
Desert Storm: A Forgotten War
Call Number: 956.7044 B612
ISBN: 0275963195
Publication Date: 1998-12-30
This account of the Gulf War reveals its importance from a military and political point of view, highlighting how modern military technology made possible, with relative ease, a victory that would have been nearly impossible by traditional means.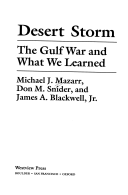 Desert Storm
Call Number: 956.704 Mazarr 1993
ISBN: 0813315980
Publication Date: 1992-12-01
Encyclopedia of the Persian Gulf War
Call Number: 956.70442 Grossman
ISBN: 0874366844
Publication Date: 1995-12-01
An A-Z reference to the history and events of the Gulf War, with biographies of key players, information on weapons, forces, theatres of operation, and diplomatic events. Includes maps and illustrations, appendixes, and a bibliography.
Encyclopedia of the Persian Gulf War
Call Number: 956.7044203 Schwartz 1998
ISBN: 0786404515
Publication Date: 1998-03-01
The Persian Gulf War changed the way Americans and the rest of the world looked at warfare. It was broadcase live via satellite into the homes of millions, who sat mesmerized as if watching a high-tech, bloodless arcade game. Now the people, places and events of the first major post-Cold War military action can be easily access in this encyclopedia.
The General's War: The Inside Story of The Conflict in the Gulf
Call Number: 956.7044 G6621
ISBN: 0316321729
Publication Date: 1995-01-01
An account of the war in the Persian Gulf takes readers behind the scenes at the Pentagon and the White House to provide portraits of the top military commanders and to discuss what worked and what did not.
Operation Desert Shield/Desert Storm: Chronology and Fact Book
Call Number: 956.70442 Hutchison 1995
ISBN: 0313296065
Publication Date: 1995-11-30
Operation Desert Shield -- Operation Desert Storm -- Maps, Charts and Photo Essay following page -- Appendices: Glossary - Coalition Prisoners of War in the Persian Gulf War -- Coalition Service People Killed in Action -- Coalition Ground Forces in the Persian Gulf War -- Coalition Naval Forces in the Persian Gulf War -- Coalition Air Forces in the Persian Gulf War -- Iraqi Forces in the Persian Gulf War -- Key Personnel in the Persian Gulf War.
Order of Battle: Allied Ground Forces of Operation Desert Storm
Call Number: 956.70442 D5831
ISBN: 1555714935
Publication Date: 2010-01-01
A complete listing of all the US Army, Marine Corps, British, French, and Arab/Islamic units that served in the Gulf and depicts the command structure between the units before and during the Persian Gulf War.